Nimpkish Lake - mecca for summer
Directions - looks like the highway signs are gone, so here's some hints:

Come north on HWY 19, about 1.5 hours north of Campbell River. 105 miles - 168km.Go past Woss, past the Zeballos turnoff and about another 5km you'll see an old orange shop building on your left and an orange signpost (but no sign) before a cross road. Just past it is a railway overpass which means you've gone too far and have to turn around. Map shows the roads to the camping area and Kite Beach. Driveable with my wife's Passat, so you know they are better than the roads to Nitinat.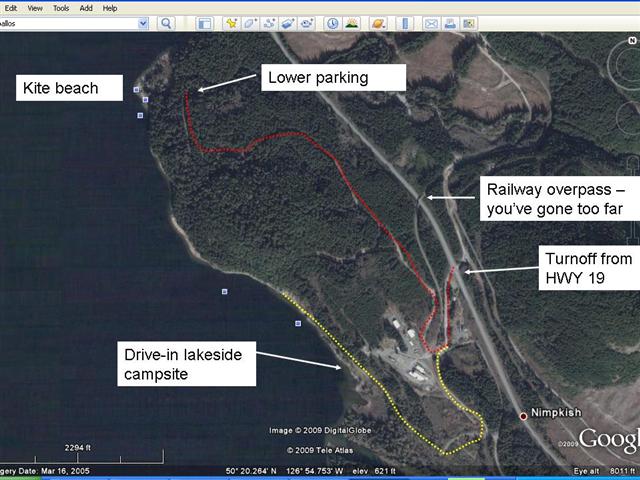 Turn off the highway to the left, at about 200 meters the pavement ends and you are at this intersection.
At the end of the road to Kite Beach you arrive at this lower parking area. The road was overgrown before, but the make-work student crew has completely brushed it out so that even a motorhome can easily make it down. You can easily make it down. You can park here and hump your gear down to the lake on a well maintained trail. There is another trail from the other drive-in campsite to Kite Beach.
Similar launch to Nitinat. Sideshore winds. A busy weekend will see 15 kites in the air.
Panoramic view of campsite - click image for full size

Seems another kiteboarding location has caught favor. This one is stillat the end of Nimpkish Lake, but well down the lake on the other side of the river. Good launch, flat beach, road not bad.

To get here take the Zeballos turn off onto the gravel road, cross the bigbridge over the Nimpkish River, keep right at all the intersections -after the bridge right towards Zeballos, then right towards Anutz Lakeinstead of going up the hill to Zeballos, right onto River Road instead of turning towards the Hustan Caves, keep straight instead of goingleft down to the Anutz Campground. You'll end up at an ancient log dump with lots of pilings at the end of Nimpkish Lake. Park and carry your gear about 100m up the shoreline until you are clear of the pilings on a flat beach.