1973 Bellanca Citabria 7GCBC
Living the dream. Gonna do the big tire bush thing. Beaches, gravel bars and backcountry strips. I wanted that tandem seating and a proper stick with the throttle in the left hand like my Pitts.
The 7GCBC has the larger 160hp motor and flaps. Still in current production by American Champion, so good factory support.
First passenger. Driving my mom home.

---
---
Destinations
---
Handy list of torques and annual maint items
Tailwheel to spring bolt 40 ft lbs
Propeller 3/8" bolts 23-25 ft lbs
Spark Plugs 360 inch lbs
Oil screen housing torque 75 inch lbs
Axle bolt torque 20 ft/lbs.
Caliper back plate torque80 inch lb
Wheel half bolt torque 8 ft-lbs (90 inch lbs)
Carburetor: idle 600 rpm, mixture 25-50 rise on leanout
Static WOT 2350-2650 rpm


Future Parts Reference
Decker Door Lock RVR#40232
Wheels 6x6 Magnesium (Cleveland 40-28D)
Brake Disk (Cleveland 164-00500)


Brake Calipers (Cleveland 30-19A)




Brake Lining (Cleveland 66-106)


Brackett Air Filter BA-8103-1
Tailwheel tire 280/250 - 4

Mods and improvements history

June 2012
As purchased had the following equipment:
Spades
Spar inspection covers - from Rainbow
Collins TDR-950 Transponder
ACK mode C encoder
King KY92 Comm Radio
Automatic fixed ELT (121.5)
July 2012
Replaced old fire extinguisher with A344T from H3R. 1.2 lbs vs 5 lbs.
Removed VOR antenna. Nobody uses VOR.
Replaced 2-point lap belts with 5-point Pacific Scientific seatbelts
Replaced ancient white plastic stick grips with factory plushy foam ones and PTT switch in front. Rear PTT installed on left window frame.

Installed GT-50 G-meter, OAT and Clock
Installed proper C-4A cockpit lighting

September 2012
Replaced tall instrument panel with low-profile one, factory new glareshield and lower lip
Replaced oil temp gauge
Installed new Sigtronics SPA400 intercom. Headset jacks on switch panel, with extra helicopter jack for pilot.
December 2012
Replaced 6:00x6 tires with used 8:50x6. New tubes.
July 2013
Replaced both tailwheel steering springs after one broke on an exciting landing
November 2013
Replaced Gill G-35 battery with an Odyssey 680 battery, just because I happened to have one around and the Gill didn't look or act healthy. Checked the tag and the Gill had been purchased new in January 2012.
Purchased PMA parts and drawings from ACA to install Odyssey 680 battery on firewall. Old wiring and battery box removed. Corrosion cleaned and tubing re-primered.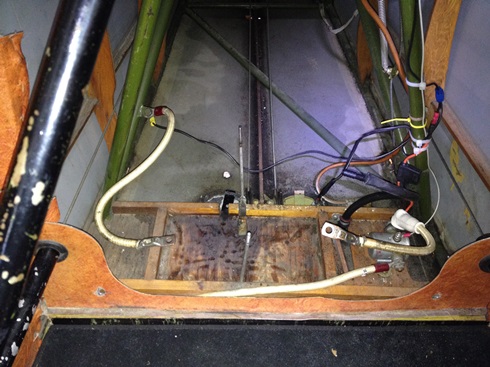 January 2014

Completed the ACA Technical Bulletin 418, Rev "A" electrical system update. Added a 5 amp breaker to protect the alternator field, and 3 amp breaker for the engine instruments, Hobbs and intercom. Then a 60 amp and 70 amp breaker under the dash to protect the main feeds to the ammeter gauge.
February 2014


Replaced axle nuts with the flush non-wheelpant type. 1 - 5/8" .
Decided to do a clean sheet W&B. Borrowed a real nice set of electronic scales from the local RAA.

Leveling the aircraft by dropping a string with a plumb bob from the wingleading edge. Mark on the top of the gear leg is the 10.18" ahead of the face of the strut fitting that the plumb points to when level. Also coincides with the upper door jamb being level. Levelling the aircraft by dropping a string with a plumb bob from the wingleading edge. Mark on the top of the gear leg is the 10.18" ahead of the face of the strut fitting that the plumb points to when level. Also coincides with the upper door jamb being level.

Gas jug is doing the fuel draining honors..
Empty weight (with 7 liter oil and 4 liter unusable fuel) is 1187 lbs. 9.57" aft of the LE edge, so a little forward as expected from moving the battery. With the baggage extension and lightweight starter it will be perfect..

Went back through all the original documentation and this is the first time the aircraft has been weighed. All previous W&B, including the original factory delivery, were calculations.
My boys need a house. Moved to a new hangar.
June 2015
Changed tires to Alaska Bushwheels AirStreaks 26". Didn't need to shim anything. Brake caliper clears just fine. Weight is 21 lbs per tire, previous 8:50x6 were 16 lbs plus 3 lbs for the tube. +2 lbs. Spec is 6-12 psi, I'm running 10 psi
Comparison of the original 6:00x6, the "larger" 8:50x6 I had for a couple years and the 26" ABW I just installed.




July 2016
Replaced starter with Sky Tech, listed on the TC 759. 122-12XLT.
Saggy out-of-spec motor mounts. Replaced with new Lord J6320-1. In hindsight could have just bought the J-6113-1 ends without the spacer. Had to jig-drill the engine mount for the index pins.

Overhauled altimeter at AQI
Replaced brake pads. Still good caliper clearance with the ABW. Lubed the pins with Sil-Glyde, special caliper pin grease used for cars.
Pulled the tailwheel assembly off (Scott 3200) for a good cleaning and inspection. How to video series by Steve Johnson of ABW. Greased with Mobil 28 red grease. Mounting bolt torque is 40 ft. lbs. Tailwheel tire pressure 40-45 psi.
Updated weight and balance. Empty is now 1170 lbs at 9.54.
October 2016
Installed Garmin G5, interfaced with Garmin AERA 550.

| | |
| --- | --- |
| PFD Mode | HSI mode - NMEA data from 550 |
December 2016
Baggage compartment had failing vinyl interior that was no longer protecting outside fabric. Redid the right side in .025 aluminum, just 'cause I had some around. Overkill, left was done with .016.
February 2017
Long winter and thinking about those long summer flights. Conservative fuel calculations mean extra stops, extra fuel tankered, lots of landings with 50 litres (over an hour and a half) still in the tank. Think I'll try one of those new-fangled fuel flows. Had one in my Beaver in 1987. Bought the PMA parts (EI FT-90) and drawings from ACA.
Replaced that ratty looking airfilter/carb connector at the same time (and clamp goes on cowling, not carb).
Replaced compass
Here's a video of the fuel flow in action. Menu on the left side of the FC-10 display:, units are litres and nautial miles:
FLOW, fuel flow in litres/hour
USED, litres since powerup
RMNG, fuel remaining
ENDR, endurance in time or distance
REQD, fuel to reach active GPS waypoint
RESV, fuel reserve on reaching active GPS waypoint

EFCY, miles per litre

April 2017
Updated the KY92 comm radio to a newer KY97A digital flipflop.
November 2017
Switched to Exxon 20W50 oil for this winter, installed blanking plate for oil cooler.
Replaced Hobbs Meter with FDS T-30, flight timer, engine timer and tach.

Replaced the ancient Whelen coffee grinder rotating beacon with an LED strobe, actually two of them, one in the previous beacon location and the second opposite to it on the belly.



March 2018
Replaced GE 4506 Landing Light with LED PAR36
Re-installed 6:00x6 tires for airport work. Cleaned and repacked bearings Mobil 28

Revised weight and balance: empty 1160 at 10.0".

Finally addressed the tailwheel shimmy. Tailwheel pivot post inclination was -6 degrees instead of +6. Bought a new fabricka pad and aluminum shim from ACAto put under the U-collar. Re-arched the spring somewhat. Was replaced new in 1994, so gets pounded flatter, now on spec.
Updated March 2018